Mon, 30 March 2015
#20 – ENTERTAINER & ARTIST – Scotty Fusion- 2015-03-24
Practically since BIRTH, Scotty Fusion has been destined to entertain. It's been his LIFE, and what a life it has been! In an attempt to NOT ruin the podcast with any spoilers, you are about to be clued into:
The cornerstone brand he landed his first gig with;
Legendary movie sets he's been a part of;
When he's lived a life at sea;
The "you'll never see it coming" connection he considers a mentor and close friend;
The weirdest Christmas Eve happenings claim I've EVER heard;
And, oh so much more……!!!
Scotty is an accomplished actor, director, production technician, magician, graphic designer, photographer, and cool soul. He's goofy, weird, talented, and very passionate, and his podcast will inspire you like no other!
This episode of Curve the Cube is sponsored by Little Smiles of Florida! Little Smiles helps kids right here in our own neighborhoods who are struggling through something that no kid should ever have to deal with. They work with the professionals closest to them to identify ways to put the little smiles on their faces. Whether donating Christmas presents to children in shelters, bringing toys to children in local hospitals, raising money for a converted vehicles, or whatever else they can do… they do! But, they do it with YOUR help. Please donate to their wonderful cause!
Head to LittleSmiles.org and order some gear. Enter the promo code "CurvedSmiles" and receive 10% off. All proceeds go to Little Smiles of Florida; so, it's a win-win!
Music Beds courtesy of DJ John Hitta!!!
Copyright Flint Stone Media, LLC 2015.
Comments[0]
---
Mon, 23 March 2015
#19 – RADIO – Jason Pennington - 2015-03-19
Episode #19 features Jason of the KVJ Show! This radio personality truly is an ultimate example of taking life by the horns and riding that thing to the fullest! He became a member of the show through a random chance at a contest, and the rest is history!
Jason brings the weirdness level of the show up several notches--doing stunts involving everything from a pelican to a MASSIVE container of popcorn. (These two were never in the SAME stunt; so, no worries.)
He wraps his personal hobbies into the show, as well. Jason has a production company he calls Sasquatch Recordings through which he releases the most peculiar, quirky, and ultimately funny and entertaining music, videos, and movies. (Yours truly dies in one of them; so check out his stuff, also looking up "The Value Meal Killah and the Snack Pack," to see it for yourself!) His "Elf on the Shelf" "tribute" song, "What Does the Elf Say?," even garnered him some out-of-state death threats!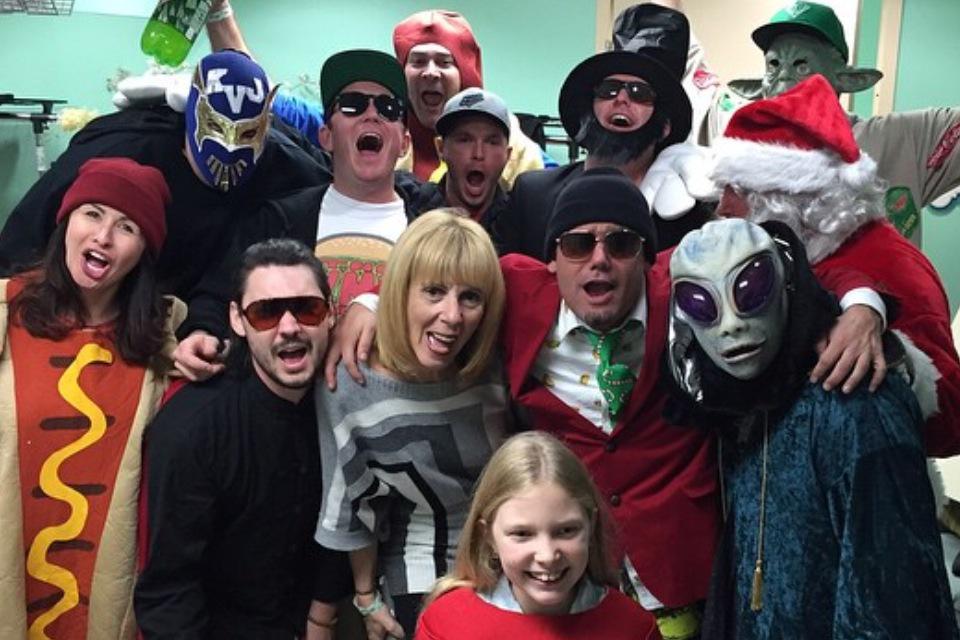 He goes big every time, plays hard, and pushes boundaries, but always with the best of intentions and heart.
Catch the KVJ Show weekday mornings from 6-10 on 97.9 WRMF. You should also download the WRMF app, so you can listen to past shows and watch/listen to their hilarious KVJ TV content.
This episode of Curve the Cube is sponsored by Sol Experiences—the Florida events company to enhance your SOLcial life! Curve the Cube's producer, Jaime, has personally been on a Palm Beach Gardens pub crawl and party-limo driven day trip to Key West that were both SUPER fun!!! Stay posted on their events, and if you mention Flint Stone Media, you will receive a discount!
Enjoy!
(On, and, FYI, Kevin Rolston of The KVJ Show did our pilot episode. So, look it up!)
Music Beds courtesy of DJ John Hitta!!!
Copyright Flint Stone Media, LLC 2015.
Comments[0]
---
Mon, 2 March 2015
#18 – PODCASTING AND MULTIMEDIA – Adam Rymer, President of Nerdist – 2015-02-28
It's the PRESIDENT of Nerdist Industries, Adam Rymer, and I couldn't have been more excited to talk to him!! He grew up down here in sunny south Florida, but has seen his career skyrocket—including making The Hollywood Reporter's 2007 "Next Generation" list of the top 35 entertainment executives under the age of 35. Adam joined Nerdist a year ago and is positioned as one of the top cutting edge trend setters for this next phase of entertainment's digital age.
On this podcast, Adam discusses the business strategies he's employing to grow Nerdist from a podcast by Chris Hardwick, Matt Mira, and Jonah Ray, to a fully integrated and dynamic media enterprise. The details he shares for cross-branding, cross-marketing, and overall business mechanics are pure GOLD!!! Even better (for me, at least), he also gives great tips for building a podcast!!!
His career started out in management consulting; but, after a journey of soul-searching, Adam realized his passion was in entertainment. And, the rest is history! He is not only shifting the gears on multimedia trends, he's exploring film production. (Check out his film The Rover, 2014.) If you are a business person, an entertainer, in marketing, a podcaster, or just have an overall interest in super cool people, this podcast is for you!
I am a HUGE fan of Nerdist. In fact, that podcast was my inspiration for starting Curve the Cube. So, I truly can't thank Adam enough for doing it!!! Pine Crest Panthers for LIFE!!! Enjoy!
Music Bed courtesy of DJ John Hitta!!!
Copyright Flint Stone Media, LLC 2015.
Comments[0]
---